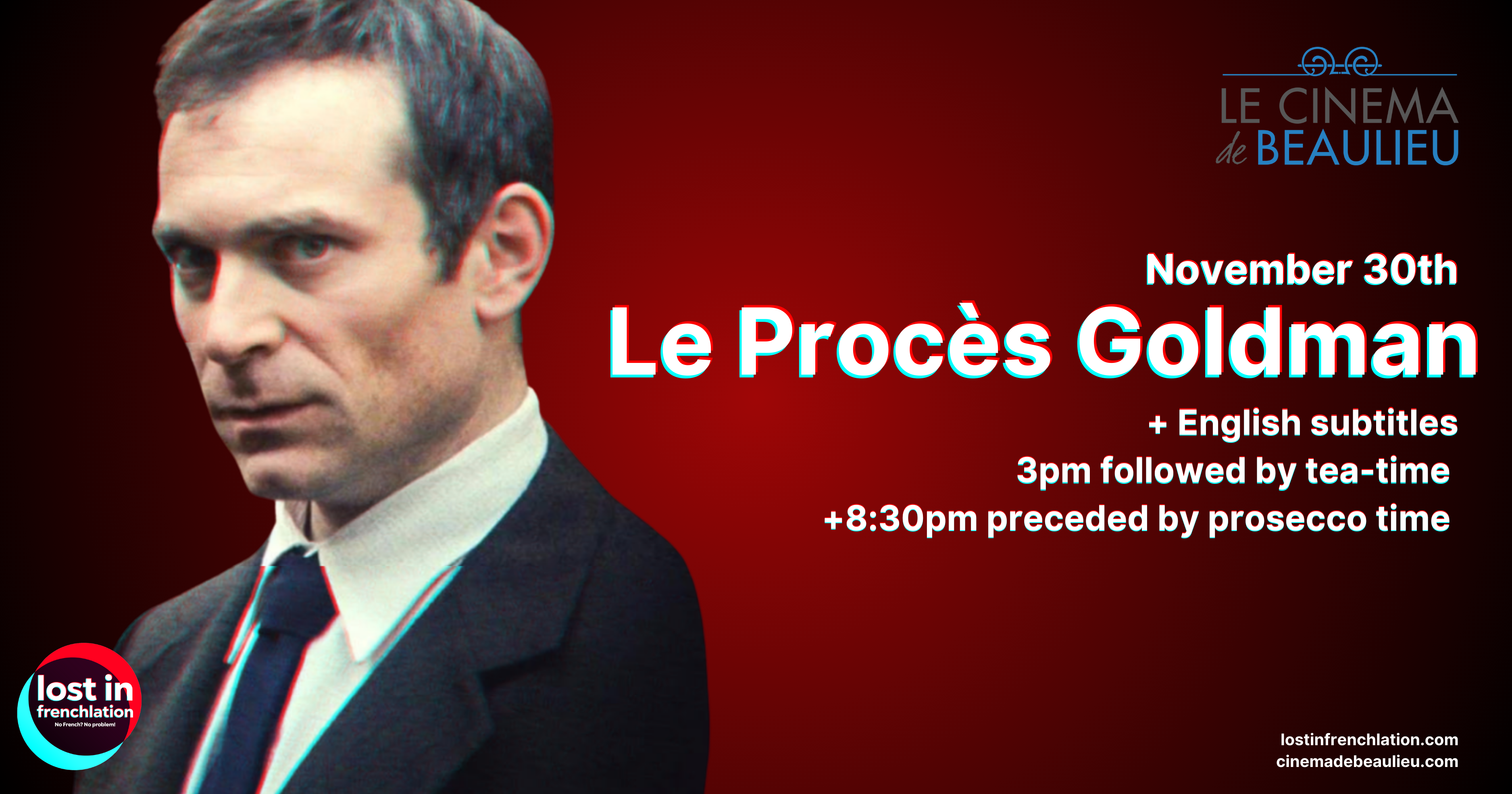 LE PROCÈS GOLDMAN
LOST IN FRENCHLATION AT CINEMA DE BEAULIEU 
Jeudi 30 novembre 15h et 20h30
Thursday November 30th, 3pm followed by tea time + 8:30pm preceded by prosecco time
French movie with english subtitles – Films français avec sous-titres en anglais.
 "Le Procès Goldman" directed by Cédric Kahn (1hr 55min) in French with English subtitles
"In 1975 is held the trial of Pierre Goldman, a fiery and controversial figure of revolutionary left-wing activism. Guilty of numerous charges, yet he proclaims his innocence in a double murder accusation. Twenty years before the OJ Simpson case, the Goldman trial reflects the political, ideological and racial tensions that marked the 1970s in France and Europe. Then considered to be the trial of the century, it divided an entire country and widened the gap between the conservative right and left-wing intellectuals." – Synopsis
"A stark, gripping courtroom drama tackling French injustice" – The Hollywood Reporter
" Cédric Kahn weaves a fascinating, true-life courtroom drama" – IndieWire
Watch the trailer with English subtitles: https://youtu.be/U7XhGhN9QKs?feature=shared
What is Lost in Frenchlation?"
Cinema is an opening to the world and we open up the world to our cinema » – Experience France's cinema culture, without the language barrier! Lost in Frenchlation gives the international community access to the best of French cinema by organizing screenings of French films with English subtitles an independent cinemas.
Single price 10€